Bachata workshop with Azael & Sindi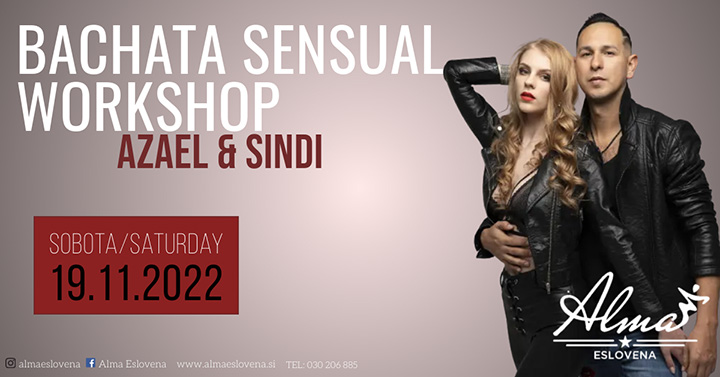 📣Attention bachata dancers📣
Alma Eslovena proudly presents the best sensual bachata event this fall. The one and only Azael and Sindi are coming to Ljubljana.
During the workshops happening on Saturday they will show us why bachata is currently one of the most popular latin dances.
They will share their passion for dance and knowledge with us in four workshops. The workshops will be all level and be suitable for dancers who already dance bachata. Workshops will cover partnerwork with some footwork.
TIMELINE:
10:30 - 11:00 - REGISTRATION
11:00 - 12:00 - BACHATA SENSUAL TECHNIQUE MUSTS (all level)
12:10 - 13:10 - BACHATA INTRO MOVEMENTS (all level)
13:10 - 15:00 - LUNCH BREAK
15:00 - 16:00 - BACHATA MUSICALITY MOVEMENTS (all level)
16:10 - 17:10 - BACHATA DIPS & TRICKS (all level)
18:00 - 19:00 - MASTERCLASS (advanced level)
After the workshops there will be an evening party in PAVILJON - Lounge & Garden (Dunajska cesta 18) from 9pm onwards. The entrance fee for workshop participants and/or masterclass participants will be free of charge, for others 10 eur - free drink included.